Beetroot
Side Project (Sole Contributor)
2015 --> Present
I designed, built and deployed an app across iOS, Android, web that offers a clean, modern experience for Australian community radio.
Community Radio Apps
Beetroot delivers a clean, modern client for underserved Australian community radio stations.
Built from the ground-up with community radio in mind, it's an OTT service that goes above and beyond the expectations of listeners by providing an enhanced listening experience with simple hooks to help stations get by.
As a pet project, it's also given me a chance to experiment with React Native. This allowed me to use my existing Javascript skills to build something that felt more native and responsive than a mere web app.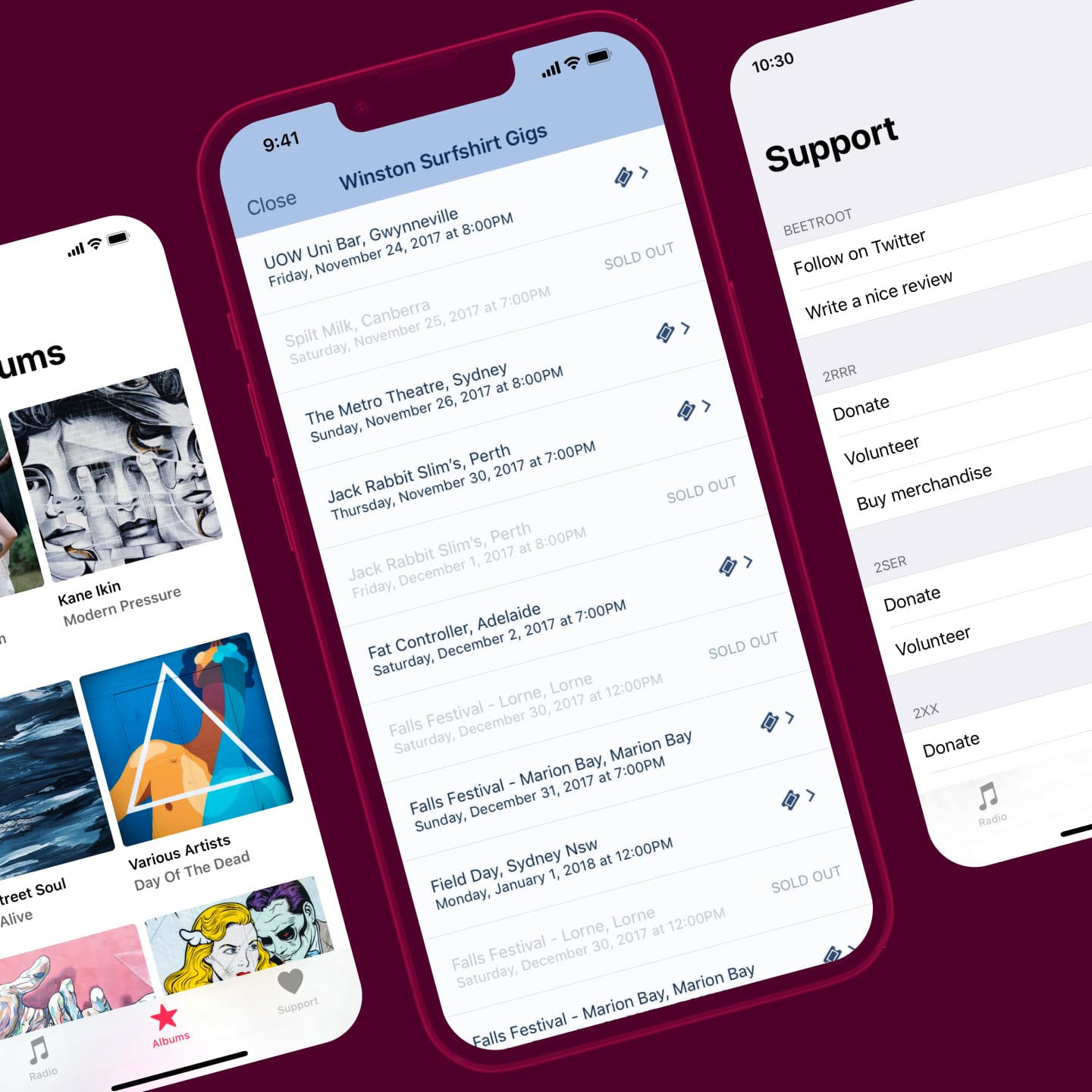 Enhanced by data
Beetroot finds song data across multiple services to link you to things like Spotify and gig tickets.
Supporting artists
A typical issue with radio is that it's hard to know what song is playing at a given time. Radio announcers aren't always perfect at back-announcing, and even if they are it's easy to miss.
Many apps solve this by providing song information as you listen. Beetroot goes further by allowing you to take action on each track.
With every track, you're given links to third-party services like Spotify and Apple Music, so you can save them for later.
In addition, Beetroot also searches for upcoming gigs for all artists being played, so it's easy to see and support artists you love.
Supporting stations
Beetroot also does the same for stations. Community support can mean the difference between life and death for a local station.
In service of this, listeners on Beetroot are given quick access to donation and merch pages to give back easily.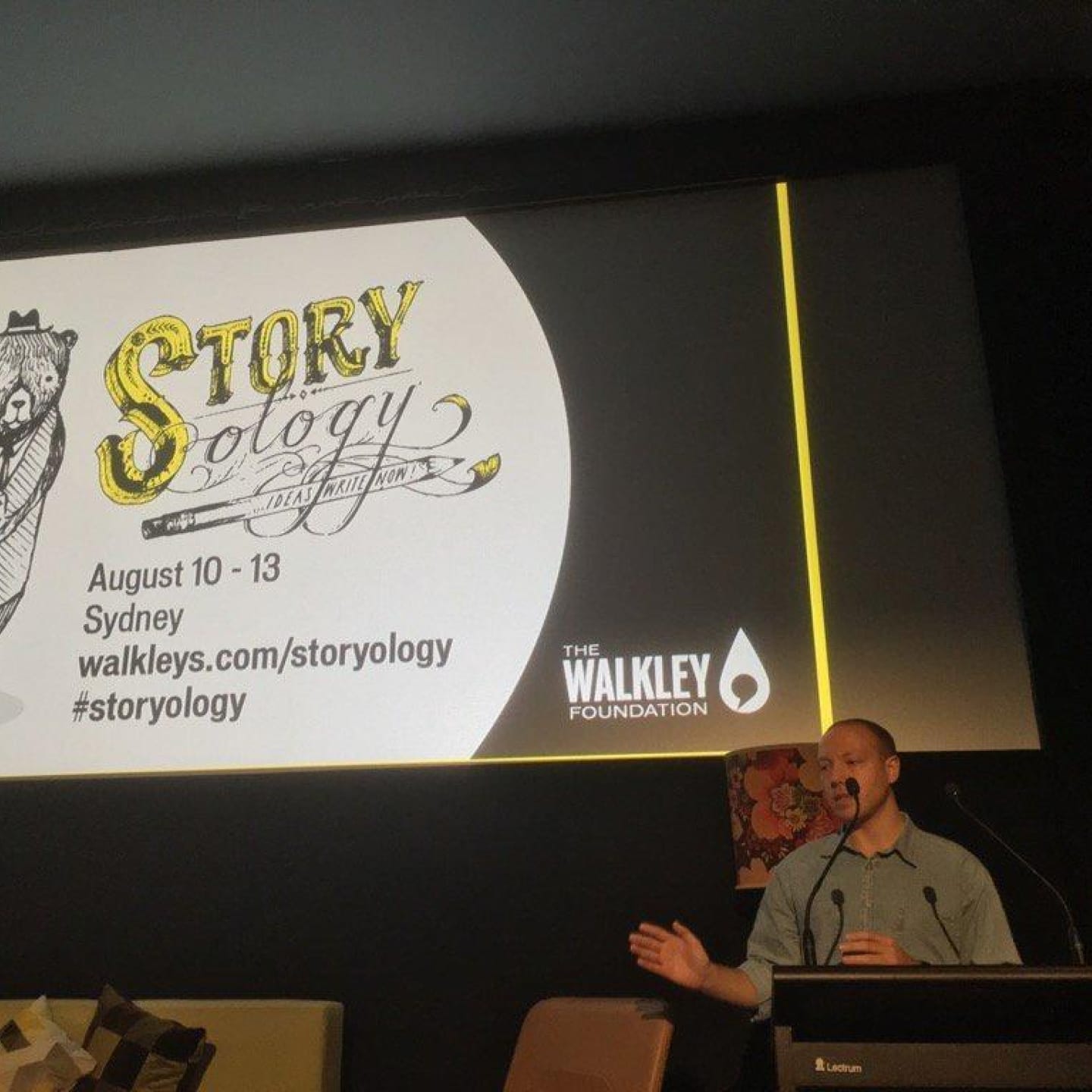 Walkley Long-Listed
Selected for the long list for the Walkley Grants for Innovation in Journalism.
The Walkley Foundation benchmarks the industry standard for excellence and best practice journalism. They work independently with all media organisations to enable Australian journalists to tell the stories of our nation and strengthen our democracy. They aim to engage both the media and the public to value, celebrate, and support great Australian journalism.
Projects long-listed for the grant were focused on podcasting, community radio, secure communications and automated data journalism. Winners would share the pool of $50,000 in seed funding from the Walkleys' innovation partner Google Australia.
I was invited to a two-day workshop with twelve other finalists in order to refine ideas before pitching to judges (that's me!)
I focused on pitching to build out Beetroot's support features to give stations better access to community funding.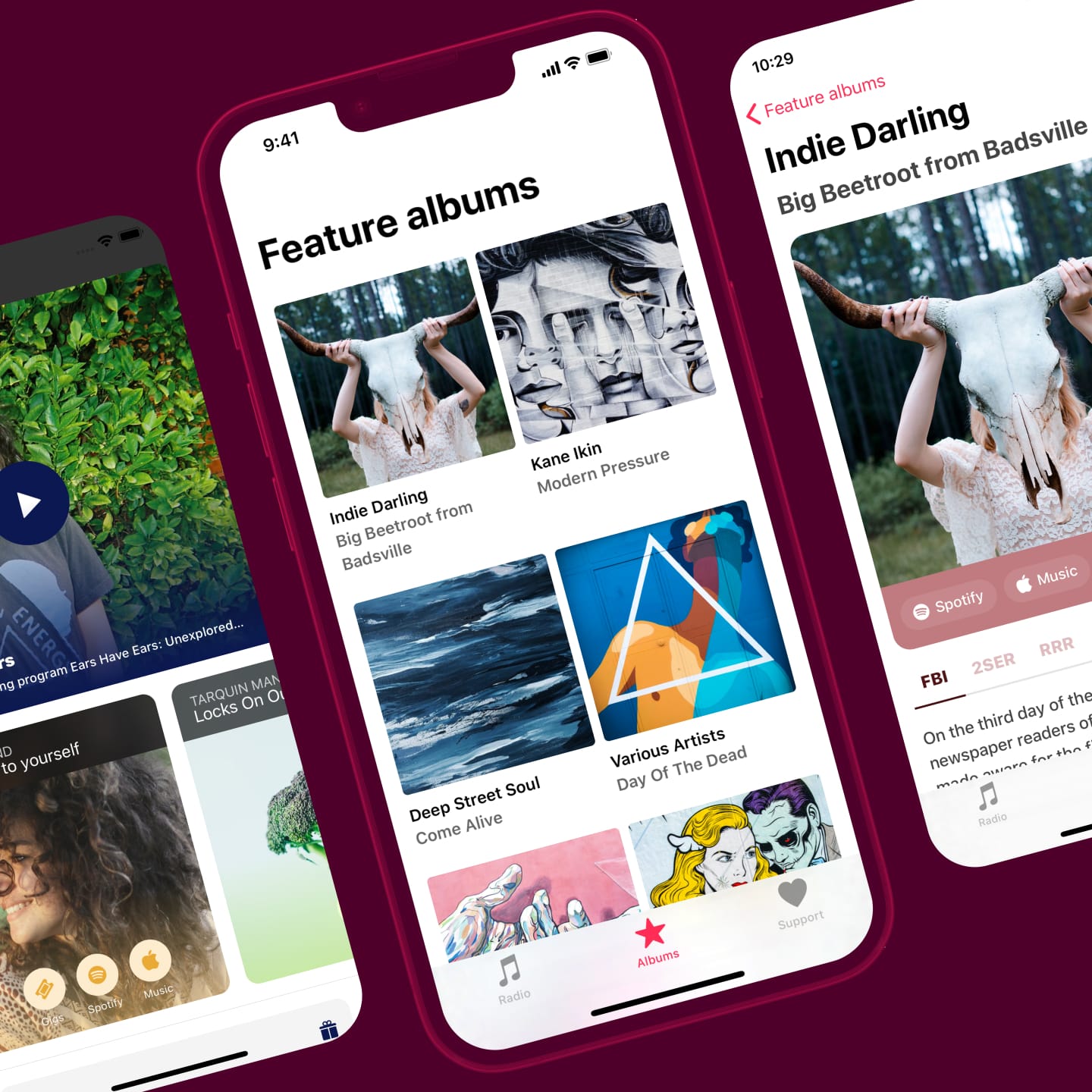 A 5-Star Magnet
★★★★★

Cool app supporting community radio

"App looks great, is easy to use, works reliably, and promotes awesome radio."

— Amperzand
★★★★★

Great app

"Fantastic, user friendly app that provides handy access to the best of Australian community radio."

— Urban homesteader
★★★★★

Brilliant radio streaming app

"Best app for streaming the radio channels worth streaming in Australia. Clean and well laid out."

— Pre ay awesum
★★★★★

Grouse app

"Fantastic app, simple, easy, all my favourite radio stations GROUSE!!!"

— Piffin Yonnies
★★★★★

Such a top app!

"This is the best streaming radio app going around."

— Mr Molloy
★★★★★

Fantastic!!!

"This app is a real winner. Used to be a real fiddle getting RRR to stream on a mobile. This does it in seconds."

— GusC123
★★★★★

Genius radio app for Aus expats

"Works seamlessly with bonus features such as the discover option. Thanks so much!!!"

— Crawfbob
★★★★★

Amazing Community Radio Hub

"Clean, simple interface, perfect streaming. Fantastic app."

— LineNoise